Riplees Pet Food Sample
Pet food sample for Canadian residents only
Free Liver Biscotti Treats!
Great treats for your dog -
Free Friskier Cat Food
Free sample Friskier cat diet or dental diet (US only)
Free Purina ONE dog or cat food
Get a free box of Purina O.N.E. Dog or Cat food (USA only)
Free Cat Treats
free sample of Fancy Feast Grilled entrees -
Free Beneful Dog Food
Try this great dog food, absolutely free (USA only)
Free Fish Food Samples
Fish lovers should try these free samples of fish food -

Wellbeloved Pet Food
Wellbeloved Pet Food Company has an assortment of samples for your pet. Currently Dog, Cat, and Ferret samples are avaliable. (UK Only)
Fish Food Sample
Register for your free Hikari Fish Food Sample. (U.S. only)
Free Horse Treat!
Free Birthday treat for your horse -
Free supplement for horses
Try this free organic supplement for horses
Pet Cows?
Sure, some people have pet cows. If you're one, you should definately try Conlic all natural feed supplement -
Free Liver Biscotti
Free Sample of the #1 all-natural dog treat-
Free Can of Dog Food
FREE can of Mighty Dog canned dog food, which contains the perfect balance of nutrients for your smaller dog -

Breeder's Choice Dog Food Sample
Breeders choice has both Cat & Dog food selections. (Available worldwide)
Free Dog Treats
All natural doggie treat from CoCos (USA only)

Free Birthday Treat
Get a treat for your dog's birthday
Free Bil-Jac Samples
Simply sign the guest book and receive free samples of this cat food -
Free Pigs Ears
Place an order over $20 at K9Snacks.com and receive 1 FREE pigs ears -
Free Birthday Treat
Just fill in the form and on your pets' birthdays,you'll get an e-greeting, along with a special birthday treat!
Flint River Ranch
Free sample from Flint River Ranch, all natural health food for dogs and cats made with the finest human quality ingredients. Your sample package will include a small sample of the food of your choice and complete information about the quality ingredients (USA only).
Friskies Cat Food
Free sample along with valuable money-saving coupons for Friskies Special Diet. Friskies Special Diet contains low levels of magnesium and is specially formulated to produce low urinary pH. Both are necessary to help maintain your cat's urinary tract health.


Catnip & Greens
7th Heaven Catnip and Vita Dreams Daily Greens for your Cat.
Hills Science Diet
Great Free Stuff from Hill's including latest news, features, and great offers from Hill'sŪ Science DietŪ and Prescription DietŪ brand pet foods.

For Horses
Free trial size of Select the Best food for horses.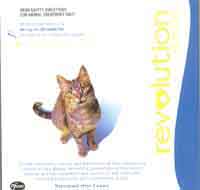 Looking for an effective once a month spot on type product which covers heartworm,intestinal worms and fleas in cats?

Revolution is a terrific product and costs under US$22 by shopping at Australian based internet store VetShopOnline.com.