No-Flea Dog Biscuits
2 cups unbleached flour
1/2 cup wheat germ
1/2 cup brewers yeast
2 ea. cloves garlic, minced
3 tbs. vegetable oil
1 cup chicken stock

Preheat the oven to 400F. and oil two or three baking sheets. Combine first four ingredients. In a large mixing bowl, combine garlic and oil. Slowly stir flour mixture and stock alternately into oil and garlic, beating well, until the dough is well-mixed. Shape dough into a ball. On lightly floured surface, roll out dough 12" thick. Using a 2" biscuit cutter or knife, cut dough into rounds. Transfer biscuits to prepared baking sheets. Bake 20-25 minutes or until well-browned. Turn off heat and allow biscuits to dry in oven for several hours. Store in refrigerator or freeze. Makes about 26 biscuits.


Does your Dog or Cat have Fleas?
For Discount Brand Name Flea Control!

Archie Squares

2 1/2 cups whole wheat flour
1/2 cup powdered dry milk
1/2 tsp. garlic powder
1 tsp. brown sugar or honey
6 tbs. meat or bacon drippings, cold right from refrigerator, not melted or soft!
1 egg, slightly beaten
1/2 cup Ice water
Preheat oven to 350F. Lightly oil a cookie sheet. Combine flour, dry milk, garlic powder and sugar. Cut in meat drippings until mixture resembles corn meal. Mix in egg. Add enough water so that mixture forms a ball. Using your fingers, pat out dough onto cookie sheet to 1/2" thick. Cut dough into squares appropriate for your dog size. Prick each cookie with fork. Bake 25-30 minutes. Remove from tray and cool on rack. Store in airtight container.



Can't Cook?
If you can't (or don't have time to) cook these treats for your dog, try Vets Best Rewards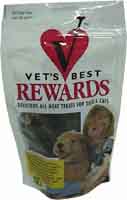 Bad Breath Banishers
2 cups brown rice flour
1 Tablespoon activated charcoal (find this at drugstores, not the briquets!)
3 Tablespoons canola oil
1 egg
1/2 cup chopped fresh mint
1/2 cup chopped fresh parsley
2/3 cup lowfat milk

Preheat oven to 400F. Lightly oil a cookie sheet. Combine flour and charcoal. Add all the other ingredients.Drop teaspoonfulls on oiled sheet, about 1 inch apart. Bake 15-20 minutes. Store in airtight container in the refrigerator.


Other Ways to Beat Doggy Breath
If your dog has bad breath, there are ways to fight it. For more information on beating doggy breath -

"Good Dog" Cookies

1/2 cup powdered milk
1 egg, well beaten
2 1/2 cups flour
1/2 tsp garlic salt
1 1/2 tsp brown sugar
1/2 cup water
6 tblsp gravy
Baby food meat

Mix all ingredients well. Roll out on a floured board about 1/2" thick. Cut out cookie shapes with floured cutters.
Bake at 350F for 25-30 minutes. Cool, maybe leaving them in the oven to dry. Cookies should be hard. Store in an airtight container.


What's Your Favourite Recipe?
Send in your favourite recipe for a chance to win a years supply of treats for your pet -