Place a Link to FreeStuff4Pets on your website for a chance to win one of 25 of these Guides to First Aid for your pet!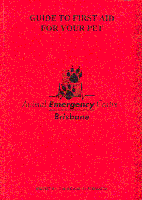 This handy first aid manual covers procedures for a wide range of everyday problems and emergencies. Its an easy to understand guide intended for pet owners, trainers and carers of pets, who may be required to provide first aid immediately before veterinary attention can be obtained.

For a chance to win one of 25 of these great guides, follow these easy steps:


Step 1
Ad a link from your website to ours. You can add the link any way you like, either by using a graphic or a text link. Just make sure you link to the following URL:

http://freestuff4pets.tripod.com

You may want to use one of the following graphics with your link:



(place your cursor on the image and right click to save)
Step 2
Test the link to make sure it works
Step 3
Complete the following form giving us details of the link. Submit one form for each webpage on which you have placed a link (e.g. if you've placed a link on your home page, and your links page, you'll need to submit the form twice).
Enter as often as you like!
For more chances to win, add more links to our website. For every link you'll get one entry into the draw.
First Aid Gear
Looking for First Aid Gear? Check out the great products at